At Konowal Vision Center, Dr. Konowal personally administers
Botox®, Juvéderm®, and Radiesse® in the privacy of our suites.
Botox®, Juvéderm®, and Radiesse® may be administered on the same day with a layering effect to eliminate fine lines and deeper creases. We price the products and services so they can be affordable for everyone. For pricing information, please call 239.948.7555.
---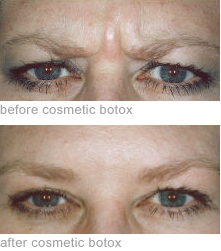 Botox®
BOTOX ® Cosmetic is the first and only FDA-approved treatment indicated for the temporary improvement in the appearance of moderate to severe frown lines and crowsfeet in adult patients aged 65 years or less. BOTOX® Cosmetic is a purified protein produced by the Clostridium botulinum bacterium. It works by temporarily reducing the contractions of the muscles that cause persistent frown lines that have developed on the forehead, between the brows, as well as the crows' feet on the outer side of each eye. It has been used to treat conditions caused by overactive muscles in over 1 million patients worldwide for more that 11 years.
BOTOX® is indicated for the treatment of cervical dystonia in patients with neck pain, blepharospasm in people 12 years of age and above and migraine headaches. It has also been found to aid patients with hyperhidrosis, or excessive sweating of the underarms, hands, and feet.
No anesthesia is required for BOTOX® treatments, although some patients choose to have the desired area numbed with a cold pack or Lidocaine cream. The entire procedure takes approximately 10 minutes, with the number of injections depending on the amount and severity of the wrinkles or frown lines. Patients can resume normal activities afterwards, since there is no recovery time needed.
In clinical trials, nearly 90% of men and women surveyed rated the improvement in the appearance of frown lines between their brows as moderate or better one month after treatment.
Why BOTOX® treatments at Konowal Vision Center?
All treatments are administered personally by Dr. Alexandra Konowal, a Board-Certified Ophthalmologist. Injections are not delegated to lesser trained personnel such as medical assistants.
BOTOX® was developed as a therapeutic agent at the Jules Stein Eye Institute at UCLA by Dr. Arthur Rosenbaum, an Ophthalmologist who found it useful in treating blepharospasm, an eye muscle disorder.
As an Ophthalmologist, Dr. Konowal is qualified to offer BOTOX® treatments. She had Fellowship training in anterior segment and understands the anatomy of the muscles, bone and connective tissue around the eyes.
Dr. Konowal uses Betacaine Plus, a numbing agent to make the treatment more comfortable. Most patients only note a slight stinging sensation, which disappears in a short time.
---
Juvederm®
Juvederm® Ultra Plus Injectable gel is a colorless hyaluronic gel that is injected into facial tissue to smooth wrinkles and folds, especially around the mouth and nose. Hyaluronic acid is a naturally occurring sugar found in the human body. The role of hyaluronic acid in the skin is to deliver nutrients and hydrate the skin by holding in water and acting as a cushioning agent. This adds volume to facial tissue and restores a smoother appearance to the face. Most patients need one treatment to achieve optimal wrinkle smoothing, and the results last about six months. Possible side effects are mild to moderate in nature and their duration is short lasting (7 days or less). The most common side effects include, but are not limited to, temporary injection site reactions such as redness, pain, swelling, tenderness, lumps, bumps, bruising, itching and discoloration. As with all skin infections, there is a risk of infection.


Juvederm® should not be used in patients with severe allergies marked by a history of anaphylaxis or history or presence of multiple severe allergies or in patients with a history of allergies to Gram positive bacterial proteins.
Important considerations include:
Avoiding substances that can prolong bleeding, such as aspirin or ibuprofen due to increased bruising and bleeding at the injection site.
Avoiding Juvederm® injectalbe gel in areas that have undergone laser treatment, chemical peeling or any other procedure based on active dermal response since there is a possible risk of inflammatory reaction at the treatment site.
Juvederm injectable gel should be used with caution in patients on immunosuppressive therapy as there may be an increased risk of infection
The safety of Juvederm® Injectable gel for use during pregnancy, in breastfeeding females or in patients under 18 years of age has not been established
The safety of Juvederm® injectlabe gel in patients with a history of excessive scarring or keloid formation and pigmentation disorders has not been studied.
Injections may cause discomfort during and after the injection. Juvederm® Ultra Plus injectable gel is injected directly into the skin using a fine needle to reduce injection discomfort. Anesthestic can be used to numb the treatment area to minimize discomfort.
Within the first 24 hours of treatment, you should avoid strenuous exercise, extensive sun or heat exposure and alcoholic beverages. Exposure to any of the above may cause temporary redness, swelling, and itching at the injection sites. If there is swelling, an icepack may be placed over the swollen area.
---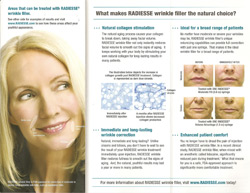 RADIESSE®
RADIESSE® dermal filler is an injectable filler for facial folds and wrinkles. It contains microspheres of Calcium Hydroxyapatite, a biocompatible, biodegradable material. It is similar in composition to the mineral portion of teeth and bone and has a history of safe use in otology (ears), laryngeal (vocal chords), and dental and orthopedic applications.
RADIESSE® is used to fill moderate to severe facial wrinkles and folds, such as nasolabial folds, the creases that extend from the corner of your nose to the corner of your mouth. Once injected, RADIESSE® dermal filler immediately adds fullness to your face giving you a visible result at the first treatment session. RADIESSE® filler contains microspheres made of natural material called Calcium Hydroxyapatite in a water based gel carrier. Studies have shown that six months after treatment with RADIESSE® dermal filler, there is an increase in collagen production to the areas of injection.
RADIESSE® dermal filler is injected with lidocaine to minimize discomfort. If you are taking blood thinners or medications that may interfere with clotting of the blood, such as aspirin, you are more likely to have bruising or bleeding at the injection site. The most common side effects are redness, bruising and swelling. These side effects generally last a short time and are mild in nature.
---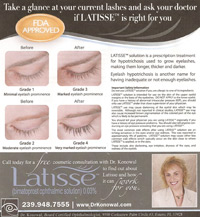 LATISSE®
Have you always wanted long, thick, dark eyelashes?
A new product is now available that can give you beautiful eyelashes without mascara.
LATISSE® solution is a prescription treatment for hypotrichosis, another name for inadequate or not enough eyelashes. It was FDA approved in 2009. LATISSE® is believed to affect the growth phase of the eyelash hair to increase its length and to increase the number of hairs in the growth phase. In clinical studies, patients saw significant improvement within 8 weeks of treatment.
The most common side effects were eye itching and redness which occurred in less than 4% of patients. Less common side effects included skin hyperpigmentation, dry eye symptoms and redness of the eyelid. LATISSE® is available by prescription only and is distributed in physicians' offices. It is contraindicated in patients with hypersensitivity to bimatopost and it is important to have your eye care specialist evaluate for glaucoma if you have risk factors or a family history.
LATISSE® is easy to apply after make-up removal at night. The onset of effect is gradual and eyelashes are expected to return to their previous appearance over several weeks to months after treatment is stopped.
Take a glance at your current lashes and call the KONOWAL VISION CENTER at (239) 948-7555 to find out if LATISSE® is right for you.